Thanks to all our friends and supporters for braving the elements for our annual FIRE Starters Breakfast. Thank you also to the Catholic Key for the front-page story! 

Coffee, Pastries And An Introduction To Children With Special Needs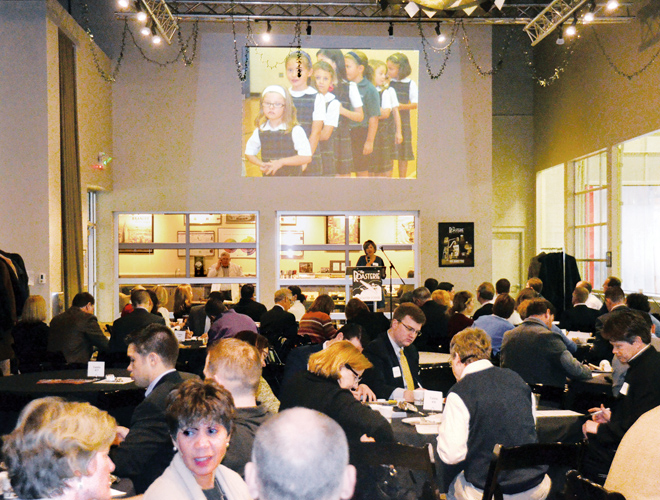 Lynn Hire, Executive Director of FIRE, the Foundation for Inclusive Religious Education, speaks at the FIRE Starters breakfast Feb. 4 at the Roasterie's Bean Hanger. A video of the children, their families and classmates introduced many of the children with special needs. (Marty Denzer/Key photo)
By Marty Denzer
Catholic Key Reporter
KANSAS CITY — The falling snow, and the threat of much more to come, kept some folks at home that morning, but about 50 people braved the weather and the early hour to attend the FIRE Starters Breakfast at the Roasterie Bean Hanger Feb. 4. Children with special needs, and the opportunity for them to attend Catholic schools with their siblings and friends through the Foundation for Inclusive Religious Education proved more compelling than staying home.
The FIRE Starters breakfast began in 2012 as a way to bring people together to share their stories, breakfast and a cup (or three or four) of coffee, and raise money for FIRE. The foundation, founded in 1996, provides financial grants to partner schools within the Kansas City-St. Joseph Diocese to help defray the costs of special education teachers, para-educators and resources. The grants enable schools to educate children with special needs along side their peers. Beginning in 1998 with three children attending two diocesan schools, today there are 67 children with special needs who receive direct support through FIRE who attend nine parish schools and one diocesan high school. The partner schools include Nativity of Mary in Independence, Our Lady of the Presentation in Lee's Summit, St. Therese in Parkville, St. Elizabeth, St. Peter, St. Thomas More, the Strong City Schools — Holy Cross, Our Lady of Angels and Our Lady of Guadalupe —Visitation and Archbishop O'Hara High School, all in Kansas City. More than 400 children with mild learning disabilities receive classroom modifications and assistance. And their schoolmates, about 4,000 in all, learn acceptance, compassion and the value of every child, as everyone has unique gifts.
As the attendees enjoyed pastries, fruit and the Roasterie's special FIRE blend of coffee, Matt Mitchell, owner/operator of five Culver's restaurants, shared his story. Matt and Jeannie Mitchell have five kids, one of whom, Tony, was born with Down syndrome.
Matt recounted some of his journey as a parent of a child with special needs, a little poignant, a lot funny. In 2004, he and his wife, along with their children, opened their first Culver's in Lee's Summit. Tony has been a part of the work force since the beginning. Matt said his son has been teaching his coworkers and the customers about the value of inclusion in the workplace since day one.
"I can tell you," Matt said, "people with Down syndrome have the best smiles!"
Including people with special needs in the workplace has all sorts of rewards, he added. "They create warm hearts in former Grinches. It's amazing to watch employees with special needs grow in confidence and competence. And all sorts of people receive a great hello, every time."
Employees with special needs work at each of Matt Mitchell's Culver's. Several students with special needs attending Archbishop O'Hara High School spend an hour or so each school afternoon either at Culver's, Chick-fil-A or a Honda dealership in Lee's Summit, gaining work experience, social skills, countless friends and a pay check.
Matt urged those present that if they took away just one idea from the breakfast, consider inclusion in the workplace. "Inclusion of children and adults with special needs at school, at work and at church makes lives better, richer, fuller; the entire school, parish or business benefits!"
Inclusive education doesn't just happen, he said. It takes dedicated people, trained teachers, specialized equipment and lots of resources.
Coach Dave Rebori, Athletic Trainer and a para-professional, works with the O'Hara students with special needs, and provides transportation to get the students to Culver's, Chick-fil-A and the Honda dealership. "We have a great time," he said. "And so many people help them grow in confidence. William, the Pepsi man at Culver's, shows them how to stock and stack the different Pepsi products."
Joe Rose, whose wife Julie is the administrative assistant for FIRE, spoke of their daughter, who has Down syndrome. "FIRE provides an infrastructure and hope for families," he said. "It gives families the ability to step back, be in the moment right now and appreciate it. "
FIRE Executive Director Lynn Hire said that she was most grateful to the people who attended the breakfast. About $14,000 was raised, which she said would be deposited into FIRE's general fund to provide grants for partner schools. "We are the funders, not the educators," she said. "Inclusive education looks a little different at St. Peter's, St. Elizabeth's, Visitation or Nativity."
As Kevin Connor, a FIRE Board member said during the opening prayer, "Thank you, God, for your presence among us … (as we) praise and care for our young people who grow and learn more mysteriously than others. … Thank you for blessing us with the kids served by FIRE in our parish schools — a reminder of your many ways of beauty."
Everyone has abilities and disabilities, he said. Children with special needs can teach other children the many faces of God.
Special needs learning support? Here's an app for that!
– by Marty Denzer in the Catholic Key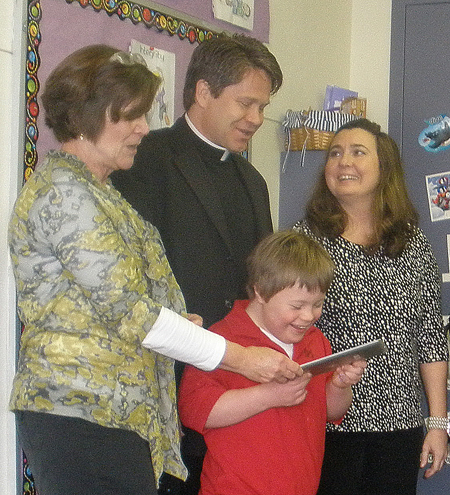 KANSAS CITY — Children and high school students with special needs now have learning opportunities more in line with their classmates in Catholic schools across the Diocese of Kansas City-St. Joseph. The Foundation for Inclusive Religious Education, F.I.R.E., presented iPads to seven area schools with students with diagnosed special needs — St. Peter's, St. Thomas More and Visitation elementary schools in Kansas City, St. Therese of Parkville, Nativity of Mary School in Independence and Archbishop O'Hara and St. Mary high schools. St. Gregory Barbarigo School in Maryville will also receive an iPad, as the school plans to start a kindergartner with F.I.R.E. in the upcoming 2012-13 school year. St. Elizabeth School had previously purchased several iPads for their students with special needs, with help from a grant the school received.
F.I.R.E. funding subsidizes the costs of special education services for children with diagnosed special needs, including Down syndrome, developmental delays, Lowe's syndrome, spina bifida, autism, and cerebral palsy, in their parish school or high school with their siblings, friends and peers.
Students with mild learning disabilities also receive support and services through modifications and instruction provided by special education teachers and para-educators within inclusive classrooms and resource rooms.
Thanks to a matching grant from the William G. McGowan Charitable Fund and to the generosity of local donors, F.I.R.E. executive director Maura Nulton said they were able to purchase 12 iPads. The units remain the property of F.I.R.E., but are on loan to the schools while they have students with special needs who receive paraprofessional support and could benefit from the iPad apps and other capabilities. When the students graduate, leave the school or no longer need the units, they are to be returned to F.I.R.E., which will then loan them to another school where students with special needs would benefit from them.
It was midmorning on Feb. 2. All the kids in Michelle Burton's second grade classroom at St. Peter's School in Kansas City were curious about the parents, reporters and TV camera clustered in a corner of the room. Principal Janet Spallo introduced F.I.R.E. board members Mary Madden and Joshua Brewster, who smilingly handed a box to Erin Wilson, special education teacher and coordinator. Wilson called Jack McCaskill, one of Burton's students, and Ian Browne-McClain, whose teachers are Leslie Fitzgerald and Cathy Grant. The boys jumped out of their seats and approached her, both eyeing the open box she held about their shoulder-height. Jack peered into the box and smiled; Ian peeked in next and said, "Hello!" to the iPad lying there.
Wilson handed each boy an iPad with the instruction to sit back down with it. Parents and classmates gathered around Jack and Ian, eager to see and maybe touch the iPad. One student moaned aloud, "My mom has one of those but she won't let me play with it!"
iPads are a line of Apple tablet computers designed to be a platform for audio-visual media, including books, magazines and newspapers, movies, music, games, apps (applications) and Internet content. The iPad is controlled by a multi-touch display as well as a virtual onscreen keyboard (instead of a physical keyboard) and uses a Wi-Fi connection to access local networks and the Internet.
Wilson, who has worked with kids with special needs at St. Peter's for six years, said she is excited to learn to use the iPad and work with the students using it. "It can be a big help with their educational needs," she said.
iPads can be especially useful for kids with fine motor and verbal skills challenges, she said. There are apps to help relay messages.
Wilson said she, along with other special needs teachers and paraprofessionals who work at schools that are part of F.I.R.E., will attend an Apple Store in-service training program to learn to find the best apps for the students they work with.
"These iPads will be great support for the kids as they learn Math, reading and spelling," she said. "They will also be a great supplement to the regular curriculum. All of our St. Peter's students, those with special needs and those without — they all will benefit from this, because though they learn at different rates, they learn from each other."
Marita Burrow, diocesan Coordinator of Special Needs, also received one of the iPads. She is learning to use the device, and is impressed with the way the iPad aids in learning through the senses. "There are visual components, tactile, auditory and cognitive components," she said. "The kiddo can see a letter, hear its sound, trace its shape and see its use in a word." For children with visual or hearing impairments, backgrounds and tones can be changed to assist them.
F.I.R.E. Board member Mary Madden told The Catholic Key, "We are so excited to present the iPads to the children as part of our ongoing commitment to providing the very best opportunities for educational enrichment. It has been widely publicized that the children in general, and children with special educational needs in particular, respond very well to the tools developed by iPad technology. While the device was not created with special-needs consumers in mind, it appears that the children stay connected to the apps that teach spelling, counting, drawing, and remembering pictures for much longer periods of time than before. We have heard some parents say that through the device, their children have been able to communicate their thoughts to adults for the first time. One expert calls it 'a quiet revolution' for the autism community."
F.I.R.E. plans to continue to provide access to additional applications as they are developed by Apple, Madden said. "The degreed special educators, as well as our para-educators, are excited about this opportunity for the children, and we can tell by the expressions on their faces that the children are excited too!"
Burrow said that she will, through research, discussions and experimentation, find apps that are good for students with learning and behavioral challenges, and relay that information to teachers. "For example," she said, "a child with autism would benefit from a visual scheduling app so they know what they're doing now and what they will be doing next. Scheduling apps with photos or drawings of teachers or textbooks would help the student transition from one activity to another. They also would help students with fine motor skills."
Really great apps have components in all the senses, Burrow, a mother of three, said. "With the iPad, the apps and programs become very mobile, catering to the needs of the kiddos."
She sees many benefits from the technology for children with special needs, for their families, teachers and fellow students. But she cautioned that she wants kids who have developed some fine motor skills to still use a pencil or pen and paper for certain projects or learning rather than becoming dependent on the iPad.
F.I.R.E. board members distributed one iPad to Nativity of Mary School, one to St. Thomas More and one to Visitation, two each to St. Therese School in Parkville and St. Peter's, one iPad to St. Mary's High School in Independence and two to Archbishop O'Hara High School.
View story on CatholicKey.org