FIRE: Igniting Inclusive Catholic Education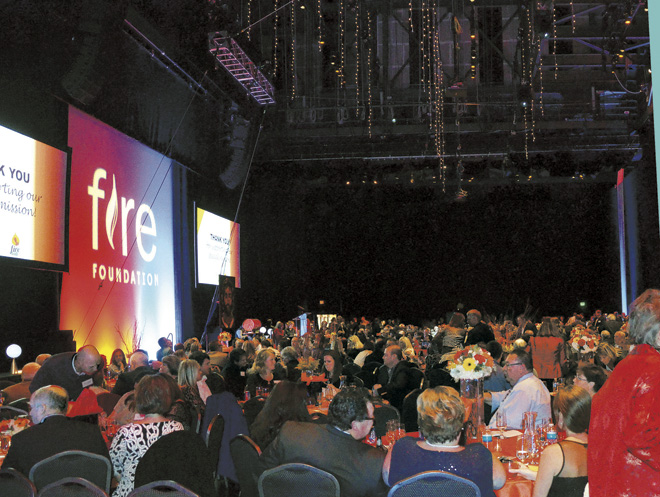 By Marty Denzer
Catholic Key Reporter
KANSAS CITY —Ever been backstage at Starlight Theater? It's not just dressing rooms. There are several large areas, perfect for events like FIRE Ball, the annual Bon FIRE gala benefit for the FIRE Foundation, held Nov. 1.
Presented by Loretto Charities, the benefit attracted supporters from all over the city, people who strongly believe in what FIRE Foundation does: raising funds to help Catholic elementary and high schools pay the salaries of special education teachers and paraprofessionals to enable children with special needs attend the same schools as their siblings and friends.
The mission of FIRE Foundation began in 1996 with five families who wanted their children with special needs to be able to attend their parish schools with their brothers and sisters. In 1998, three small boys were enrolled at St. Peter's and Visitation schools.
The boys were followed by more and more children with special needs, learning with their siblings and friends at St. Peter, Visitation, St. Thomas More, Holy Cross, Our Lady of Angels, Our Lady of Guadalupe, St. Elizabeth and St. Therese North schools, all in Kansas City; Nativity of Mary in Independence, Our Lady of the Presentation in Lee's Summit and Archbishop O'Hara and St. Pius X high schools. The first three students graduated from Archbishop O'Hara a few years ago, and are now working and doing well.
This year, 75 children with diagnosed special needs attend the schools. Another 619 students are learning through the support they receive from the paraprofessionals. Add the remaining students at the partner schools whose lives are enriched by knowing their peers with special needs, enjoying their friendship and learning with and from them, and you'll find that 4,915 students benefit from FIRE.
The first students grew up and so has FIRE. This past year it was rebranded to reflect its mission of "igniting inclusive Catholic education." FIRE Ball 2014 celebrated its successes: the children and their families, teachers, paraprofessionals and, the supporters and donors, and the new brand.
The first part of the evening was spent perusing the items in the Silent Auction, watching fire jugglers on the adjoining patio through floor to ceiling windows, enjoying cocktails and having photographs taken in the Photo Booth to remember FIRE Ball. Art Alley, a hallway leading to Stage House, the main event room, was filled with artwork by regional artists and original work by students at the FIRE partner schools. All art pieces were available for bidding on.
A video of the children in the partner schools —children with special needs, their classmates and friends, showed the happiness and laughter of children together in school, learning and growing.
Dinner was served in the Stage House. Lon Lane's Inspired Occasions served FIRE-charred Cobb salad with grilled chicken; FIREY southwest style mini tacos; pit-FIRED barbecued pork or burnt ends, and for dessert, a FLAMBE donut hole bar featuring Lamar's donut holes.
For those who dared, the FIRE Ball signature cocktail was available for purchase. The drink was a mixture of Fireball Cinnamon Whiskey and Orchata, a rice and dairy blend. It was advertised to taste like heaven and burn like, well, take a guess.
Performance artist Mike Debus created an original work of art while dancing around the stage as music played. The audience stopped eating for a moment as they watched the face of Jesus emerge on the canvas. The painting was later sold for $1,000 during the live auction.
The Flame Award honors special education teachers and paraprofessionals who show "outstanding dedication, compassion and a consistent can-do approach to meeting the needs of students with special needs; promoting inclusive Catholic education" in the partner schools. Nominees this year included Jennifer Batten of St. Peter's, Laura Connealy of Visitation, Colleen Daugherty of Our Lady of the Presentation, Vicki Ferlisi of Nativity of Mary, Steve and Nancy McCoy of Archbishop O'Hara, Teresa Medina of St. Elizabeth, Mary Beth Stanek of St. Thomas More and the winner of the Flame Award, DeDe Stodden of St. Therese North.
There was also a performance by Quixotic, a local trio singing and dancing on long scarves hanging from the ceiling. Following dinner were the Cash Call, the Wildfire Wager drawing, the Live Auction and raffle drawings, all conducted by auctioneer Tanna Guthrie.
The live auction featured sporting events, a barbecue party for 50 people, a 12-date package for Kansas City restaurants, theatres and the Ballet, plus a night at a Plaza area hotel, trips to Cancun, Santa Fe, Colorado and Ireland. The two most fiercely bid-upon items were an original painting by visually impaired artist, Jeffrey Hanson, who is based in Overland Park, Kan., and a 10-week old Schnoodle (50 percent Schnauzer and 50 percent Poodle) puppy.
An added twist to the auction was the Wildfire Wager, in which bids of $100 were charged to the bidders' credit cards and the winner was able to select any item except original artworks, from the Live Auction. The trip to Santa Fe was the winner's choice.
Later there was music and dancing inside the Stage House as well as conversations around the outdoor fire pits on the patio.
Lynn Hire, who was hired in 2013 to succeed retiring Executive Director Maura Nulton, said she was pleased and humbled by the results. "Our income and expenses for FIRE Ball are tallied. Our preliminary estimated net revenue is $276,000," a 54 percent increase over last year.
In greater detail, Hire explained that "proceeds from raffle sales more than doubled (from about $10,000 last year to more than $22,000 this year) thanks to the strong participation of partner schools in the first annual FIRE Ball Cup." The students, parents and faculty members at nine of the schools joined in the competition to sell raffle tickets for FIRE Ball. Our Lady of Presentation School won the traveling FIRE Ball Cup Trophy, which will be on display at Presentation for one year. "All those $5/raffle ticket sales add up to make a big impact," she added, "in fact, $22,000 is enough for a grant to a partner school and is an amount that will make it possible to hire a paraprofessional."
The total net proceeds include a $100,000 gift from Loretto Charities, established and run by Lamar Hunt Jr. Loretto Vice President James Arkell sits on FIRE's Board of Directors.
"Once again" Hire said, "we are humbled by the generosity of donors and those who support FIRE's mission of inclusion. Every gift – from $5 to $500 to $5,000 – makes it possible for children, regardless of ability, to learn and grow in knowledge, faith and friendship in Catholic schools."